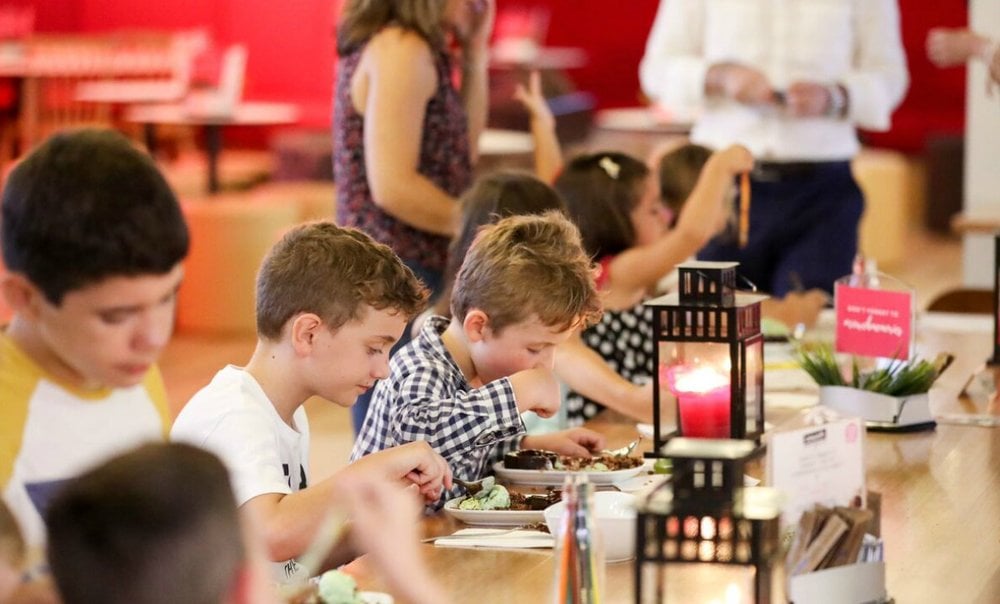 1. Disco Theme Your Kids Party Venue
Disco might have died in 1979, but that doesn't mean it can't be resurrected even for just one night. If your child loves to boogie, bring disco roaring back with a mirrored disco ball, stretchy spandex pants, open-necked shiny shirts and flares.
Get the party started with tunes by Donna Summer, the Bee Gees, Sister Sledge and the Village People. You can fill your entire house with the sounds of synthesisers, syncopated basslines and electric pianos. When the kids get tired from all their dancing, they can refuel with party snacks and drinks, including little plastic cups filled with colourful jellies and sprinkled doughnuts.
2. Pancakes & Pyjama Party At Your Kids Party Venue
Few kid's birthday party venues sound cosier than pancakes and pyjamas. I think all of us kind of like the idea of slipping into our PJs, getting comfortable under a blanket with all our friends and indulging in a range of sweet and savoury pancake creations.
Can you image? Chocolate chip pancakes with ice cream, strawberries and whipped cream served alongside pancakes with maple syrup and bacon. Our taste buds are going crazy just thinking about it. Throw on some movies or music in the background and you've set up the perfect indulgent night in for your child and their friends. 
3. Witches & Wizards
When you think of a witches and wizards-themed birthday party, Harry Potter immediately comes to mind. However, you might be surprised by the range of costume options, from Sabrina Spellman and Merlin to Melisandre from Game of Thrones and Gandalf.
Witchcraft and wizardry can also lend your kid's birthday party venue a sense of mysticism and magic. Decorate the rooms with figures from fables and legends, create bubbling bowls of strange and delicious concoctions and invite guests to brave secret themed rooms containing mysterious figures and noises. There are plenty of party games to choose from as well, including broomstick races, poison apple bobbing and potion making.
3. Sporting Heroes theme at your Kids Party Venue
Athletes and sport stars play a significant role in our kids' lives. Who didn't idolise an athlete when they were growing up? Let your kid walk in the shoes of his or her favourite sporting hero this birthday by throwing a sport-themed party venue. Your guests can come dressed as their favourite athletes and play sport-themed games.
These could range from Score the Goal (a variation of Pin the Tail on the Donkey) to tunnel ball relays and sports trivia. There's also a myriad of recipes online for creating the perfect sport-themed snacks, including jalapeno popper football cheese balls and mini basketball player cookies.3