Planning on hosting your wedding in Brisbane? Discover a range of beautiful wedding venues for ceremonies and receptions. 
Blank Canvas Wedding Venues
Design your dream Brisbane wedding with modern styling in a blank canvas venue.
Budget & Affordable Wedding Packages
Host your special day for an affordable price with our list of budget reception venues.
Our hand selected list of venues can host intimate weddings for 10 guests through to large venues for over 1,000 people.
heritage brisbane wedding venue
This heritage wedding venue is Brisbane's best for riverside ceremonies and wedding receptions, with magnificent architecture, crystal chandeliers and stunning views. Enjoy award winning cuisine, renowned service and attention to detail to ensure that your wedding is a truly memorable occasion at Brisbane's best wedding venue.
RAINFOREST WEDDING VENUE in brisbane
Get back to nature on your big day and go walkabout with a wedding reception venue guaranteed to please. Nestled serenely in the beautiful D'Aguilar National Park, just 12 kilometres from the bustling heart of Brisbane's CBD, Walkabout Creek is the city's very own tranquil rainforest escape, the perfect setting for your Brisbane wedding.
Say 'I Do' to Brisbane's most versatile wedding venue with city views. If there's one thing we know about weddings it's that despite it being the most exciting day of your life, it can also be the most expensive. But don't worry, with a great range of affordable wedding packages available you can plan the wedding of your dreams at one of Brisbane's best venues.
small brisbane wedding venue
Host a celebration to remember at Brisbane's most acclaimed intimate wedding reception venue. The bistro's private dining room is the perfect space to host a sit down or cocktail style wedding reception. Look out over the 'Gasometer' with access to a full AV system, private wait staff and carefully crafted menus.
Discover Brisbane's new wedding venue featuring stunning views of Brisbane's river and CBD. This premium space will be available to hire for glamorous Brisbane wedding receptions.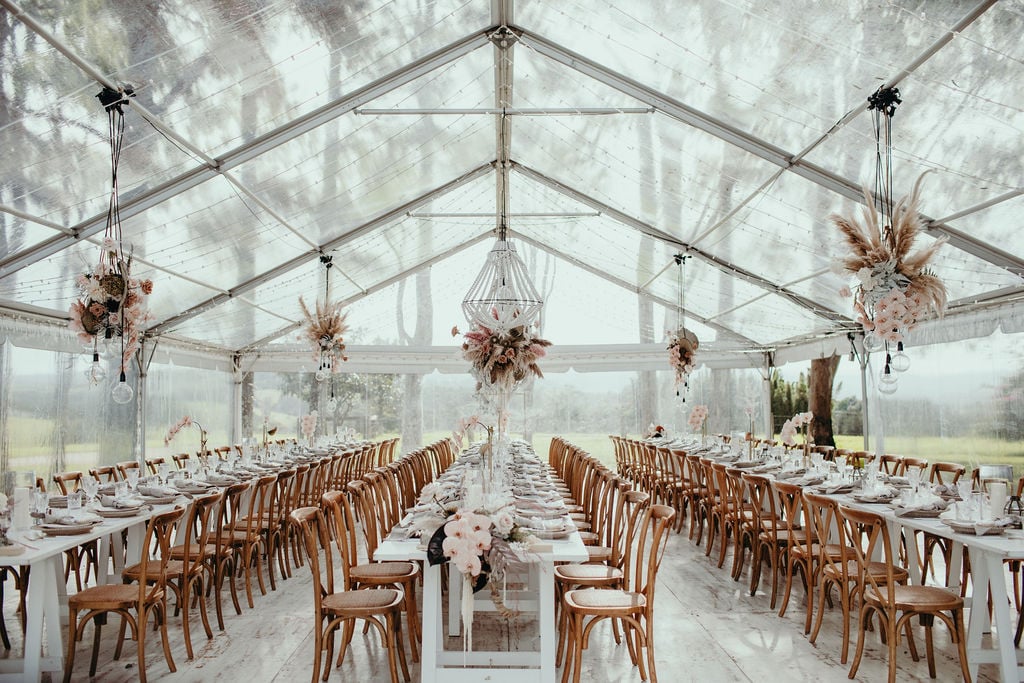 Budget weddings in brisbane
Affordable Wedding Venues
Find affordable wedding venues in Brisbane. From the CBD locations to rainforest wedding venues. We have a range of complete wedding packages to suit any budget.
Design the day of your dreams from one of Brisbane's warehouse wedding venues. These converted warehouses offer a blank canvas that allows you to add your own creative flair.
Do something different and host a glamorous wedding reception in a stylish marquee. These unique structures provide an intimate setting for guests and can accommodate dance floors, photo-booths, catering vans etc. Enquire now for more information about marquee weddings in Brisbane.
FALL IN LOVE WITH OUR Brisbane WEDDING VENUES
Start Planning The Wedding Of Your Dreams
Whether you're dreaming of an intimate low-key dinner with friends or a glamorous cocktail and canapé soiree, we know of a space to suit every style and budget.
Brisbane, capital of Queensland, is a large city on the Brisbane River. Clustered in its South Bank cultural precinct are the Queensland Museum and Sciencentre, with noted interactive exhibitions. Another South Bank cultural institution is Queensland Gallery of Modern Art, among Australia's major contemporary art museums. Looming over the city is Mt. Coot-tha, site of Brisbane Botanic Gardens.
Weddings in Brisbane
As the capital of Queensland, Brisbane has so much to offer to couples who are looking to get married.
Situated on the banks of the Brisbane river and near the coast (Moreton Bay), the peninsula is known for its Queenslander architecture (somewhat Victorian / Colonial, with a splash of Art Nouveau), rolling hills, and tropical climate.
There are many gorgeous venues available in this city, with some of our favourites including the Queensland Gallery of Modern Art and Glengariff Historic Estate.
Popular Brisbane Wedding Venues & Prices
For those couples on a shoestring budget and those couples who are looking to spend, there are many options for wedding ceremony and reception venues! You can find something as low as $1750 for venue hire (Brookfield Hall), but the average cost of a Brisbane wedding venue is about $13,000. Of course, there are more luxurious options (like the Hillstone St. Lucia, where the "indulgent menu" is priced at $189.50 per person).
Brisbane is home to and popular for many waterfront weddings, as well as historic estates, parks, golf clubs, gardens, and restaurants. There's really something for every bride and groom in Brisbane, whether you're looking for something very elegant or something more laid-back and rustic.
Travel & Hotel Accommodation For Brisbane Weddings
Out-of-state and international guests may fly into the Brisbane Airport, which is a major international airport that services southeast Queensland. It is located about 20 minutes by car from the centre of Brisbane, but the Airtrain is also an excellent option for your guests, as it runs every 15 – 30 minutes, depending on the season. Both the Sunshine and Gold Coasts are located about an hour to an hour and a half away by car as well.
As one of the larger cities in Queensland and Australia, Brisbane has many hotels and Airbnb's to offer for you and your guests' accommodations. Hotels can start as low as $30 per night and can go up to $375 or more. The most popular Airbnb homes and rooms in the area cost approximately $30 – $150 per night, so there are a lot of affordable options available! For the bride and groom, there are many lovely hotel and honeymoon suites available, such as at the Stamford Plaza Brisbane or the Capri by Fraser Brisbane.
Weather and Climate Considerations For Brisbane Weddings
Brisbane, Queensland, has some of the warmest weather in Australia, which makes it so great for outdoor weddings! However, the summer months can be quite warm, with a high of 30oC in January. We suggest winter or spring weddings in Brisbane, as they are a little cooler (low of 10oC in July and an average low of 16oC / high of 26oC in the fall months (September to November). We also recommend avoiding the summer months as they can experience quite a bit of rainfall (an average of 8 – 9 days from December to March), and cyclones are also a possibility from mid-summer to early fall. As always, remember to ask your venues if they have suitable back-up locations or spaces in case of inclement weather.
Affordable Wedding Venues In Brisbane
Looking for cheap wedding venues in Brisbane? Well, there is certainly no need to break the bank to make the most out of this big day. Keeping your wedding budget within manageable levels will start with being smart in your choice of the largest wedding expense – the venue. Brisbane has an exciting selection of both outdoor and indoor venues that are well within even the smallest budget. So whether you are considering a cafe with a terrace, or the natural beauties of a garden, we can help you narrow down your search. Get the hunt started and book your venue today!
When starting your hunt for a wedding venue, your first consideration will be understanding the size of your wedding party. Less is less in this case, so don't be surprised if some of the venues you find will be smaller capacity venues.
Your options are still great, however. Brisbane has an eclectic mix of the old and the new, so there is sure to be something to suit every kind of taste and budget. Starting in the CBD, there is a wide variety of choices, check out The Customs House, or the City Botanical Garden for affordable spaces with a memorable atmosphere. If you are looking to be near the water, consider hosting your celebration at any of the restaurants in Bayside. They have great food, smaller capacity rooms, and a stunning view of the water.
There are also some great choices just outside the CBD, such as Darling St Chapel in Ipswich QLD, or other customisable outdoor reception venues such as Fentons or the Ipswich Show Society. Going farther afield, you can find a range of smaller venues that take advantage of Brisbane's proximity to the beauty of the nearby Gold Coast. Consider Rosewood Farms, or Coolibah Downs Private Estate, for example. There are also Somerset's renovated historic Coronation Hall or Bundaleer Rainforest Gardens – both just a short drive from the CBD. If you are willing to arrange the transportation, these next-to Brisbane venues offer great value at as low as $300- $750 hire fees and complete wedding packages with prices averaging around $2,000.
FIND THE BEST WEDDING VENUES IN BRISBANE
Request Pricing & Availability
Enter your details below for more information.