Featured Event Venues In Brisbane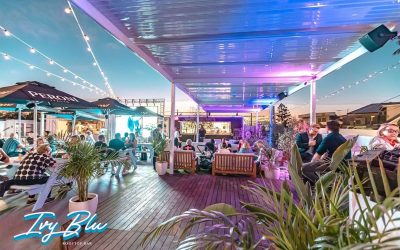 Ivy Blu welcomes you into Brisbane's newest high. An urban oasis that overlooks major attractions in the heart of Brisbane....
Find The Best Function Venues In Brisbane
"End of Financial Year Venues in Brisbane" As the end of the financial year approaches, businesses in Brisbane are gearing up to celebrate their achievements and reflect on the past year. This is a time when companies come together to acknowledge their hard work, reward their employees, and set new goals for the upcoming year. And what better way to mark this significant milestone than by hosting a memorable end of financial year event? Brisbane, the vibrant capital of Queensland, offers a plethora of venues that are perfect for hosting such celebrations. From stunning waterfront locations to trendy rooftop bars, there is a venue to suit every taste and budget. Whether you are planning an intimate gathering for a small team or a grand gala for the entire company, Brisbane has it all. One of the key factors to consider when choosing an end of financial year venue is the atmosphere it provides. Brisbane boasts a diverse range of venues that can cater to different themes and styles. Whether you prefer a sophisticated and elegant setting or a more relaxed and casual ambiance, there is a venue that can bring your vision to life. Additionally, the city offers a wide range of catering options to ensure that your guests are treated to a delectable culinary experience. From gourmet canapes to lavish sit-down dinners, Brisbane's catering scene is renowned for its quality and variety. In this article, we will explore some of the top end of financial year venues in Brisbane, highlighting their unique features and offerings. Whether you are a business owner, event planner, or simply looking for inspiration for your own end of financial year celebration, this guide will provide you with valuable insights and recommendations.
Upcoming Events In Brisbane
Discover the best New Year's Events Brisbane has to offer. From cocktail parties to dinners, this guide will help you celebrate the biggest night out in Brisbane.
Looking for ways to celebrate Mother's Day in Brisbane? We've got you covered with some amazing events happening around the city. From brunches to high teas and special concerts, there's something for every type of mom. Check out our top picks below!
Christmas is a time for spending time with family and friends, but it can also be a time to spend money. If you're looking for something delicious and inexpensive, Brisbane has lots of options. We've researched some of the best Christmas food deals in Brisbane so you don't have to! Whether it's Christmas breakfast, Christmas lunch, Christmas dinner – or just somewhere to grab an ordinary bite to eat on Christmas Day – our article has some of the best options across Brisbane for you to choose from. We have covered Brisbane northside and Brisbane southside as well as the best places to have Christmas lunch in Brisbane city.
Your ultimate guide to Father's Day events in Brisbane. Whether you're celebrating with friends, family or on your own, find a range of fun and free activities to do on the big day! Father's Day is a national celebration of fatherhood. It's a day to honour our dads, to reflect on what it means to be a father, and acknowledge the important role fathers of all kinds have in the lives of their children. Find the best Father's Day events in Brisbane, the perfect way to show Dad how much you care. Browse this page to find all the Father's Day events in Brisbane. Find his favourite and make sure he has a great day!
The most spectacular night of the year returns in 2022 to light up Brisbane Festival opening night! If you love fireworks, make plans to get to celebrate Riverfire. To help you plan your evening, we've put together a list of the best Riverfire events and restaurant menus Brisbane has to offer in 2022. From Riverfire cocktail parties, to special Riverfire restaurant menus, this guide offers everything you need to know for Riverfire in Brisbane. The Brisbane river fireworks 2022 will be an incredible display of fireworks and will light up the Brisbane skyline from multiple city rooftops, barges and bridges. Ahead of the pyrotechnics, the Army Aviation team will demonstrate their flying prowess. The best thing about Brisbane Riverfire by Australian Retirement Trust is that it's absolutely FREE!
Find Brisbane's best Melbourne Cup events. From long lunches to cocktail parties, we've put together a list of the top events for you.