Queenslanders are lucky enough to experience picture perfect weather almost all year round. These picnic spots in Brisbane are the perfect place to lay down the picnic rug and enjoy a feast with friends and family.
Brisbane Picnic Spot 1: New Farm Park
This grand 37-acre park is a spectacle when the jacaranda trees lining its circular roadway are in flower in late spring. There's no such thing as a bad spot here, whether you're keen on looking out over the river, sitting near the rose garden or enjoying the sea of green that's around you. Plus it's only three ferry stops from the CBD, or there's plenty of parking if you prefer to drive.
Brisbane Picnic Spot 2: Kangaroo Point Cliffs
Whether at the top or the bottom of the Kangaroo Point Cliffs, this might be the most popular spot for a picnic in Brisbane. Up high, the view spans from the CBD to the mountains of the Great Dividing Range, while those down below can gaze out over the river. There's ample space for you to throw down a rug and laze back while catching the daring feats of abseilers scaling the 18-metre-high cliffs.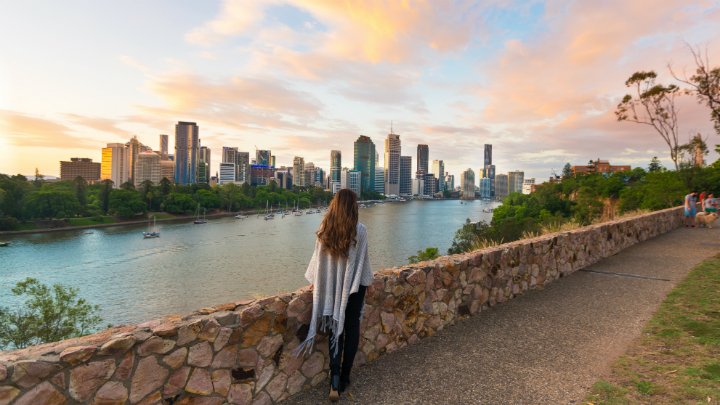 Brisbane Picnic Spot 3:Sherwood Arboretum
Sherwood Arboretum's 15 hectares of parkland is a popular spot for picnics, with plenty of grassy spaces to roll out the picnic blanket in the shade of one of the many trees. Free-to-use barbecues and picnic tables are scattered around the grounds, so you can decide whether to look over the man-made freshwater wetlands or the mighty Brisbane River.
Brisbane Picnic Spot 4:Rafting Ground Reserve
Rafting Ground Reserve is a lush sprawling oasis of green with a creek winding through it on the edge of Brookfield and Kenmore. From the Moggill road entrance there's a car park, amenities block, picnic shelters, BBQs and a great playground for young ones, with tunnels, 'shops', forts, climbing nets, slide and swings.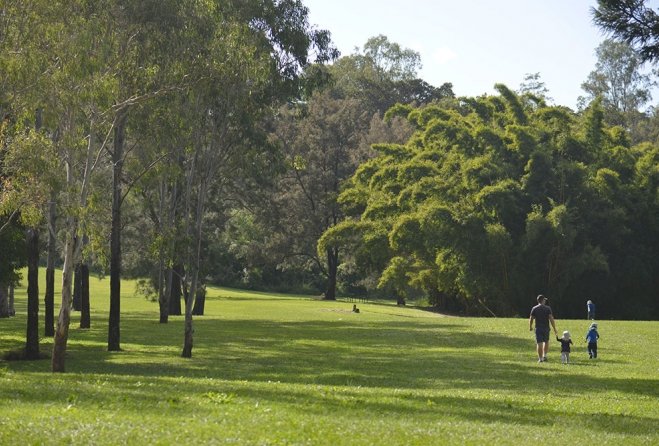 Brisbane Picnic Spot 5:City Botanic Gardens
The City Botanic Gardens are a sanctuary from the hustle and bustle of inner city life. There's also an open, grassy picnic area with a sheltered pavilion at the rear of the gardens, opposite QUT, and plenty of picnic tables throughout the gardens and along the riverbank.