15 Proposal Ideas From the Pros
You've bought the ring and now you have to orchestrate a thoughtful and memorable proposal to up your chances of hearing a "yes". Whether you're special someone is an adventurous adrenaline junkie or a wildlife warrior, we have the perfect location and activity to "wow", with all the trimmings to make the moment extra special.
Great Barrier Reef Adventures 
Take a romantic day trip to Queensland's Great Barrier Reef . Carlo Fishing Charters provide fully catered fishing adventures to the Northern areas of the Barrier Reef, including Swains Reef, Groote Eylandt, Blue Mud Bay. Explore the most beautiful place on earth with a 7 or 10 day charter.
DIY Romantic Dinner
Make a romantic dinner at home with flash fair. Start your special evening with a dozen fresh oysters from The Fishery – nature's aphrodisiac, so you might walk away with more than just a "yes". Then create your favourite stir-fry with love, using in season produce from one of the city's top produce suppliers, like Milton Fruit Bowl. Top it all off with a super indulgent dessert or homemade ice cream, and craft bubbles. Pop the question after you pop the cork – it's bound to impress.
Take a Walk on the Wild Side
If your sweetheart has a soft spot for the cute and cuddly, visit the world's first and largest koala sanctuary, Lone Pine Koala Sanctuary. Cuddle a koala, feed some affectionate kangaroos and be entertained by the owl and eagle shows. With such a unique and thoughtful location for your animal lover, the koalas won't be the only ones getting a cuddle.
Escape to Nature
Hiding away in the D'Aguilar National Park, Walkabout Creek offers a serene, intimate environment away from the hustle and bustle of the city. The beauty of nature acts as the backdrop for your special moment, with a quiet forest walk giving you the perfect "just dropping down on one knee to tie your shoelaces" opportunity to pop the question.
A Sweet Picnic 
They say it's the thought that counts, so if your better half is a sentimental sweetie, take her to a place that is special to you two, such as where you first met or where you had your first date. Pack a picnic and share the memories of the past before popping the question and celebrating the memories to come!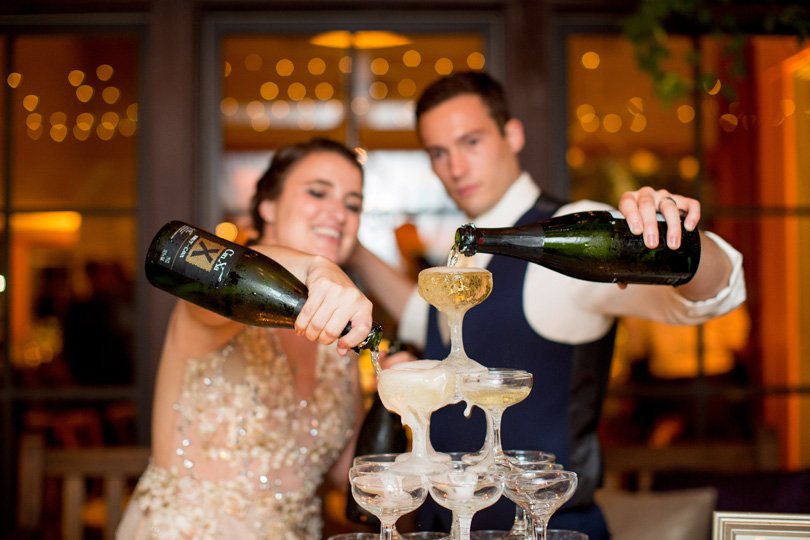 Dare to be Different 
For all of the thrill seekers out there, why not propose during an exhilarating experience? Skydive Brisbane offers jumps with beautiful views of the Northern beaches of Brisbane. This makes for a unique proposal she will never forget. Just as she thinks she can catch her breath upon landing, take it away again as you flash that bling of a ring.
Floating on Air
For a little less screaming than skydiving, hot air ballooning is another great option to do something a little different for a special proposal. Hot Air Brisbane offers balloon rides with picturesque views and a champagne breakfast. This romantic and intimate treat will give you legit bragging rights.
Go Sky High
Give your lovebird a bird's eye view of the city with a scenic helicopter flight. Tour the CBD, looking over the Brisbane River, Story Bridge and Gabba Stadium. A memorable experience topped off by a proposal for finale!
A Night to Remember
Treat yourselves to a night away somewhere luxurious. Make a night of it on the town enjoying Brisbane like you've done so many times before the big "yes", surrounded by endless top quality restaurants and bars to spoil yourselves silly.
Pretty Petals
Wherever you decide to pop the question, you can't forget the little things that make the moment even more magical. Add some petal power to your proposal with some fresh flowers from Flour & Bloom. These floral artists can customise beautiful bouquets and posies to suit your sweetheart's taste.
Make it Sweet 
So long as you're going the whole hog with all of the trimmings, it's safe to say that a customised cupcake couldn't hurt.  Vanilla Pod specialise in personalised cupcakes for all occasions. Who could say no to a cupcake that literally has their name – or a shiny diamond ring – on it?
Tell the World
Skywriting. Over-the-top? Perhaps. Affective? Always. Truly a fairy-tale proposal style, Skywriting Australia can write your message in the sky, so you can share the love far and wide. Your loved one will feel like the luckiest girl in the world, although, girls who share her name may be given false hope.
Road Trip It
Fill up the tank and take a road trip to somewhere romantic. Maleny is a beautifully scenic drive, where you can sample fine cheese and handcrafted chocolates to make for a truly special day. Mount Tambourine offers equally as gorgeous lush greenery, where you can enjoy the vineyards close to home for a truly unique day out, enjoying each other's company. Don't forget to pack your best romantic mix CD for the drive!
At the Drive-In
If you're dating someone understated who appreciates the simple things in life, grab a gourmet takeaway pizza (Italian food is the height of romance) and high tail it to the drive-in cinemas for a night under the stars. Pack a blanket to snuggle into, and just as the credits are rolling, give your sweetheart an encore to remember as you ask for her hand.
Capture the Moment
You've put in the hard yards to plan the perfect proposal, so you definitely won't want to forget it. Surprise your special someone with photos of the moment your lives changed forever by hiring a professional photographer to sneakily snap the whole thing! Or, just ask your best mate to hide in the bushes with your camera if he isn't busy that day. Whatever works.
If you're ready to take the plunge and enter the next chapter with the one you love, our fool-proof proposal ideas are sure to impress, making you look more romantic than Romeo. Hit us up when you're ready to plan the engagement party and wedding (we're experts at that, too)!