Your 50th Birthday is a big milestone! Your party is sure to be a hit. Why not show your guests how great your party will be with some exciting invitations to match. Gather some inspiration from these top 5 birthday invitation ideas!
1. Fun Cookie 50th Birthday Invitations
Everybody loves cookies, especially themed ones that will inform guests of your upcoming 50th birthday. Treat your guests to a tasty surprise as they open your fun 50th birthday invite.
Cookies found on Etsy.
2. Retro Themed Birthday Invites
Talk about blast to the past with these retro styled invites. Take your guests back to older times with these funky retro themed birthday invitations, perfect for your upcoming 50th birthday party.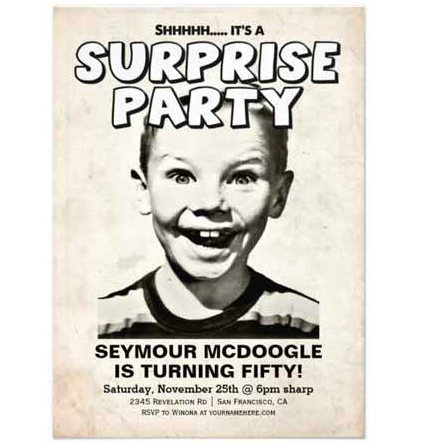 3. Add A Photo To Your 50th Party Invite
What a fun way to spruce up your 50th birthday invitation. Add a funny photo to your invite: a cute baby photo, something slightly embarrassing but still funny, or a recent selfie you took.
4. Funky Newspaper Birthday Invitation
Send your guests an invitation they have never seen before. This unique newspaper design is sure to engage your guests and get them excited for your 50th birthday celebration.
Find this design and others on Etsy
5. Chocolate 50th Birthday Invitation
Send out chocolate invitations to your guests and they will be wishing you sent out a second by accident. Chocolate is perfect treat for your guests, they won't be able to decline your invitation.