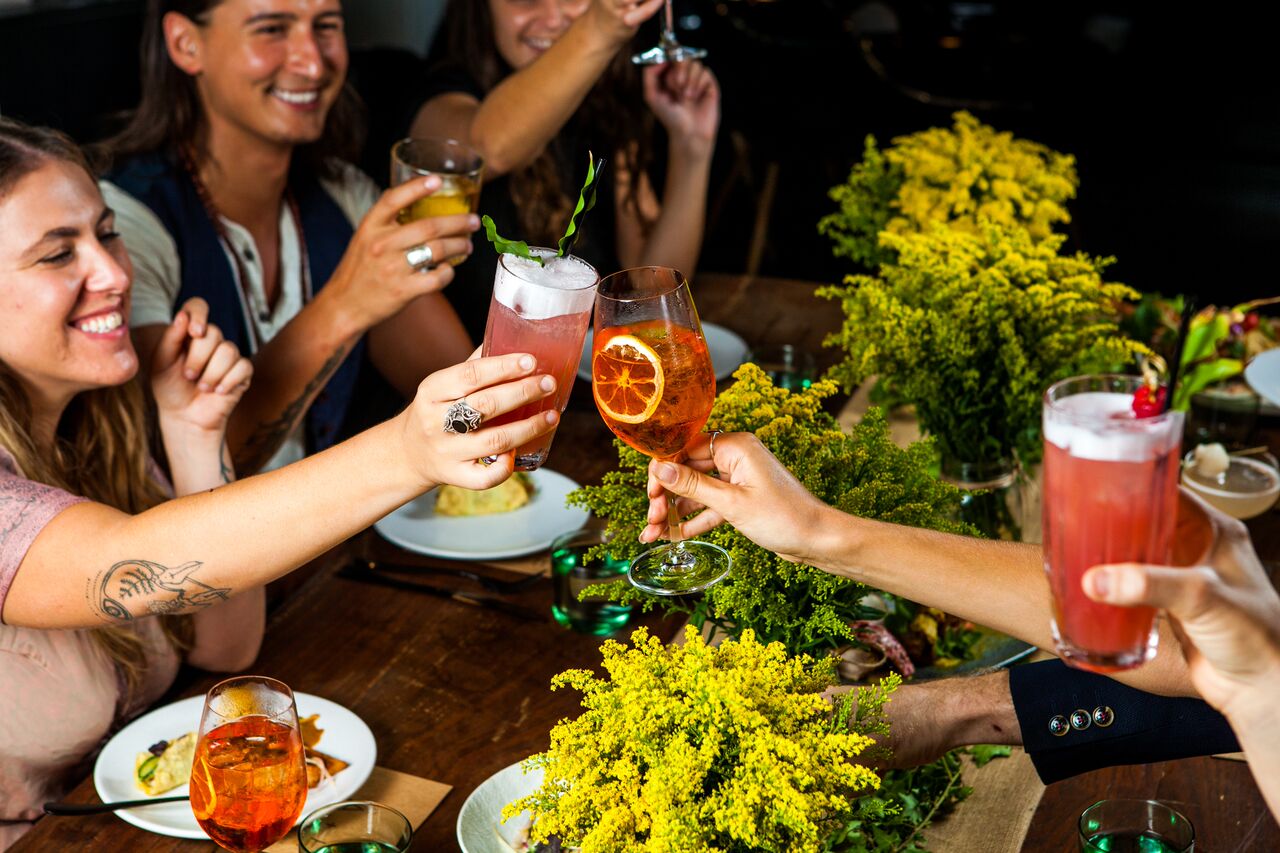 50th Birthday Idea: 007 Theme
For a seriously classy 50th birthday party in Brisbane, think Bond. James Bond. A 007-themed bash is the perfect opportunity to dress to kill in a slick suit or slinky dresss, while sipping on vodka martinis. Shaken, not stirred.
The best bit? Adele, Shirley Bassey, Sam Smith, Billie Eilish… the playlist is already perfect, with zero effort on your part.

50th Birthday Idea: Trivia Night
For a low-key birthday party with lots of laughs, grab your best (and brightest) mates and book a table or two for mid-week trivia. Beers, burgers, brain strain – what better way to celebrate another turn around the sun?

50th Birthday Idea: Roaring 20s
One of the richest decades to tap for birthday party ideas for your 50th is the Roaring 20s. Sidecars, Grasshoppers, gold décor and art deco signage… the 20s is pure class and sophistication, with a healthy dose of Gatsby-esque hedonism thrown in to ensure a great night.
Our tip? Spring for a photo booth with vintage props. And a champagne tower. Naturally.

50th Birthday Idea: Literary Heroes Theme
Why should kids get all the fun with Book Week? From Harry Potter to The Handmaid's Tale, Austen to Wilde, literature is the perfect source of birthday party inspo for the bibliophile.
Ask your guests to come as their favourite literary hero, then prepare to spend half the night playing 'Guess Who?'

50th Birthday Idea: Surprise Sunday Session
While it takes some serious undercover work to pull off, a surprise party – if done right – is always a good idea. Not everyone wants a huge fuss for their birthday though, and a surprise Sunday party session is a chilled-out birthday party idea for the low-key guy or gal.
Book a private area, send out the Whatsapp invite, then casually suggest a 'few quiet drinks' in the sunshine. Hungover on Monday? Surprise!

50th Birthday Idea: Intimate Dinner Party
An 50th birthday intimate dinner with a small number of guests is a very special way to celebrate a special birthday. Book a private dining room, fill it with your favourite flowers and create the perfect ambience with candlelight and laidback jazz. 

Then sit back and prepare to be waited on hand and foot. It's your birthday after al