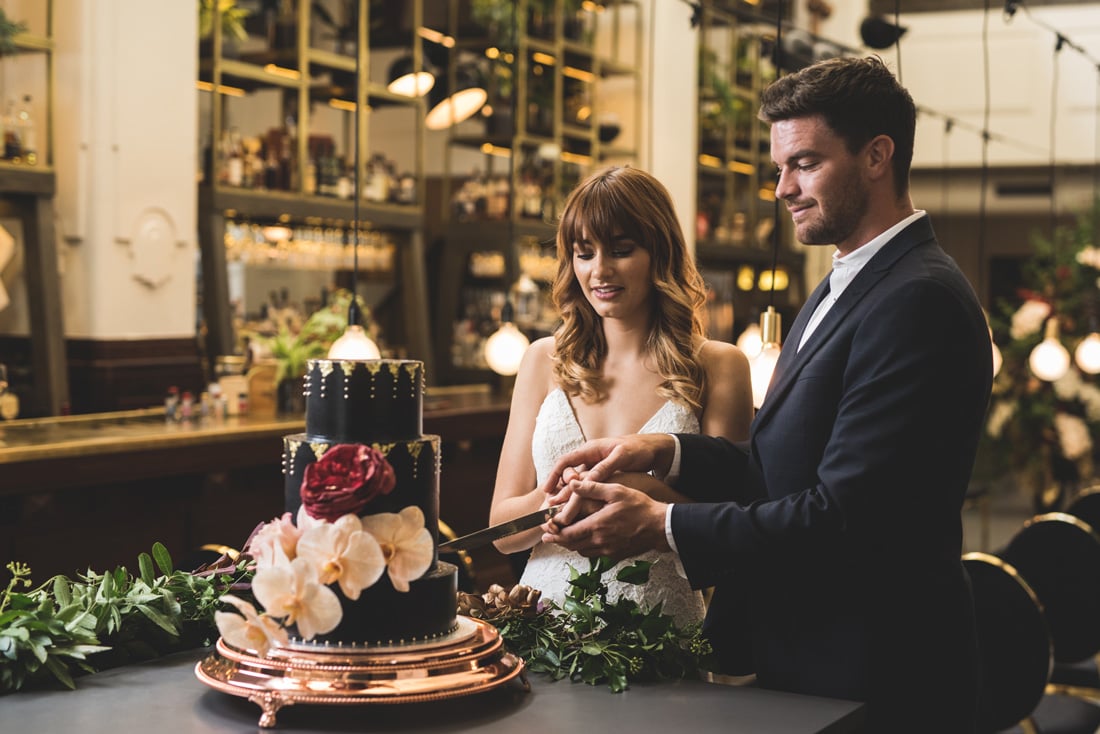 Top Tips To Inspire Your Small & Intimate Wedding
A few years ago everyone was talking about 'Tiny Houses'. Now it's all about 'tiny weddings'. With House and general living costs at an all-time high, couples have more important things to spend their money on, which is why small and intimate weddings are the trend of the moment.
Just because your wedding is small, doesn't mean it isn't still a dream come true. Here is why you should consider having an intimate wedding.

Cutting Down The Guest List
When it comes to organising a guest list for a small wedding you are going to have to carefully consider every guest. It's not about who 'isn't' invited but who really needs to be there. Try not to let anyone affect your guest list but your partner. Once your great great aunt beryl is invited it's going to be hard to say no to anyone else.
Save for something special
Contrary to popular belief, not every little girl (or boy) dreams of a fairytale wedding. Some people simply want to find someone they love and spend the rest of their lives with them. Some people dream of owning a house or travelling the world. If you are one of these people, there is no reason you should spend your life savings on a wedding. There is nothing wrong with having your reception at a classic pub surrounded by those who matter to you most. Just because you don't spend the big bucks doesn't mean your day won't be perfect. Plus you can use the money you saved for something that really means something to both of you.
Quality over quantity
When it comes to organising a wedding, Martha Stewart recommends you allocate 50% of the budget to the reception. It therefore stands to reason that the less guests you have, the more money you can spend on high-quality food, beverages, music and fun little details that make the experience special for everyone involved.

Spend More Time With Your Guests
You know when you go to a wedding and you only see the bride once because she is so busy chatting to each and every one of her guests? While some people might like playing host, many people actually want to have fun and relax on their wedding day, spend some time with their new husband or wife (shocker!), have a boogie or have a laugh with their good mates? At a smaller wedding the responsibility of the couple is lessened and they get to spend the night doing whatever they like. The pressure to perform is also lessened, your not on a stage but surrounded by your good friends and family who aren't going to judge you if you get a little crazy on the dance floor.
Make it about the love
It sounds like stating the obvious, but weddings should be about celebrating love. Sometimes that message gets a little lost in the process of throwing a giant 200 person event. Strip things back to basics with a small wedding that actually allows you to spend time with your love after all you did just marry them.
So you've got the ring (check), posted a pic of ring on the social (check), told your family (check), gloated to your friends (check), now all that's left to do is start planning your wedding!
Every couple wants their wedding to be different so here are some original ideas that will make your wedding stand out.
BYO Flowers
What is a wedding without flowers? While you'd love your wedding space to be in full bloom, flowers are often the most expensive element of the whole affair. That's where the ingenious idea of BYO flowers comes in. Instead of receiving gifts from your guests, ask them to bring along a bouquet of their choice. This way your wedding venue can look like a blooming garden without you having to sacrifice thousands of dollars which you might want to put towards your dress or the bar.
A Video Confession Booth
We suggest you take things up a notch with a video confession booth. Set up a booth with a video camera where guests can climb in throughout the night at different stages of "merriment" and leave messages for you and your partner to laugh your heads off at the next day. You could ask a videographer to edit some of the best bits together to make a hilarious edition to your wedding video.

Couples Trivia
Wedding speeches mean a lot to the happy couple. However lets be real, they can also be long, tedious and a little boring for the guests. To save your guests from getting restless get your MC to break up the speeches with some trivia questions about the bride and groom. Try to make sure the questions span across the variety of wedding guests, some for your high school friends, some for your work mates, some for your family etc so everyone feels included and enjoys themselves.
Kebab Truck
Everyone knows that in Australia it is tradition at the end of a long night of drinking and dancing to grab a end of night kebab. Why break with this tradition just because it's a wedding? Organise for a Kebab truck to arrive at the end of the night when you friends and family have worked up an appetite and are finally heading home. We guaranteed they will be overjoyed with this funny little surprise and it will also make for some great photos.
Flower Grans
If you don't have a special kid in your life, don't just borrow one for the sake off having a cute kid in your bridal party. Have a flower gran instead! What better way to include your Grandmother in your wedding then have her play the role of flower girl proceeding you down the isle with flowers. It will mean more to your grandmother plus it will really make your wedding entrance stand out from any your guests have seen before.`